Vision and Aims
We have high but realistic expectations for all our pupils and by working together in St Ronan's Recarson PS, we aim to:
Foster an environment in which learning and development may take place.
Reflect the religious ethos of our community and foster the moral, spiritual and religious growth of our pupils, based on the teachings of the Catholic Church.
Provide a broad and balanced curriculum programme based on the Northern Ireland Curriculum, which gives all pupils the opportunity to develop academically, socially, emotionally, physically and spiritually, to the best of their potential.
Equip pupils with the knowledge, skills and concepts that are the tools for learning
Provide opportunities for pupils to grow in self confidence and independence so they become responsible, caring and contributing members of their community.
Encourage high standards of discipline, behaviour and respect among pupils for clergy, parents, teachers and other people.
Develop appreciation of the pupils' own culture and respect for the values of others.
Create an atmosphere in which pupils value their time in Primary School as a rich and rewarding time in their lives.
Encourage partnership and mutual support between home and school.
Foster effective liaison with the post-primary schools to which pupils transfer.
St Ronan's Recarson ... a happy place to learn.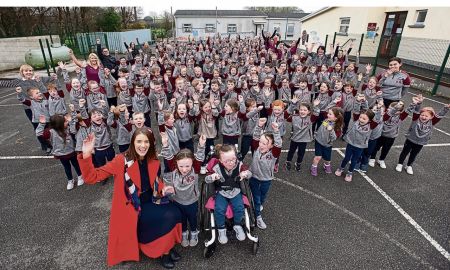 St Ronan's Primary School, Recarson, Arvalee Rd, Omagh, County Tyrone BT79 0NE Phone: 028 8224 5628